Chemnitz
Das Rotlicht in Chemnitz erstrahlt meist in privaten Wohnungen. Nur drei größere Clubs gibt's in der 240.000-Einwohner-Stadt.
The red light in Chemnitz radiates mostly in private apartments. There are only three larger clubs in the 240,000-population town.
Der renommierteste Sex-Tempel ist der "Club Luna" an der Leipziger Straße 112. Bekannt wurde er als "Tabledancebar Paradise", bevor das "Service- Angebot" erweitert wurde. Auf drei Etagen bis hin zum luxuriösen "VIP-Club" tanzen hier bis zu zwölf Damen.
The most renowned "temple of sex" is the "Club Luna" at Leipziger Straße 112. It was well-known as "Tabledancebar Paradise", befor the "Services on Offer" were extended. On three stories, including the luxurious "VIP-Club", dance up to twelve women.
Weitere Huren begleiten die Gäste in die oberen Etagen. Die Zimmer sind teilweise im Western-und Mexiko-Style eingerichtet.
Further prostitutes accompany the guests in the upper storeys. The rooms are partly furnished in Western-and Mexico-style.
Sündig geht's auch in Altchemnitz zu: Hier residiert an der Paul-Gruner-Straße 111 der "Club Belin". Die deutschen Betreiber haben die meist osteuropäischen Frauen auf drei Etagen im Haus verteilt.
The trade reaches Altchemnitz also: here resides at Paul-Gruner-Straße 111 the "Club Belin". The German proprietors have distributed the mostly east-European women among three storeys of the house.
Für die größere Brieftasche gibt's den Club "Night & Day" an der Friedrich-Schlöffel- Straße 2, nahe dem Autobahnkreuz Chemnitz.
For those with deeper pockets, there is the Club "Night & Day" at Friedrich-Schlöffel- Straße 2, near to the Autobahn Junction Chemnitz.
Insgesamt arbeiten in Chemnitz rund 120 Liebesdamen. Wohnungs-Prostitution ist weit verbreitet. Vor allem die Lohrstraße in Schlosschemnitz gilt als kleine "Meile", auch auf dem Sonnenberg findet man viele Adressen. Ein Laufhaus mit Wanderhuren, die sich dort einmieten, gibt es noch an der Frankenberger Straße 197.
Altogether around 120 women work in Chemnitz. Apartment-prostitution is widely distibuted. Above all the Lohrstraße in Schlosschemnitz is considered a a small "Meile", and you also find many addresses on the Sonnenberg. There is still a Laufhaus with women who are tenants there, at Frankenberger Straße 197.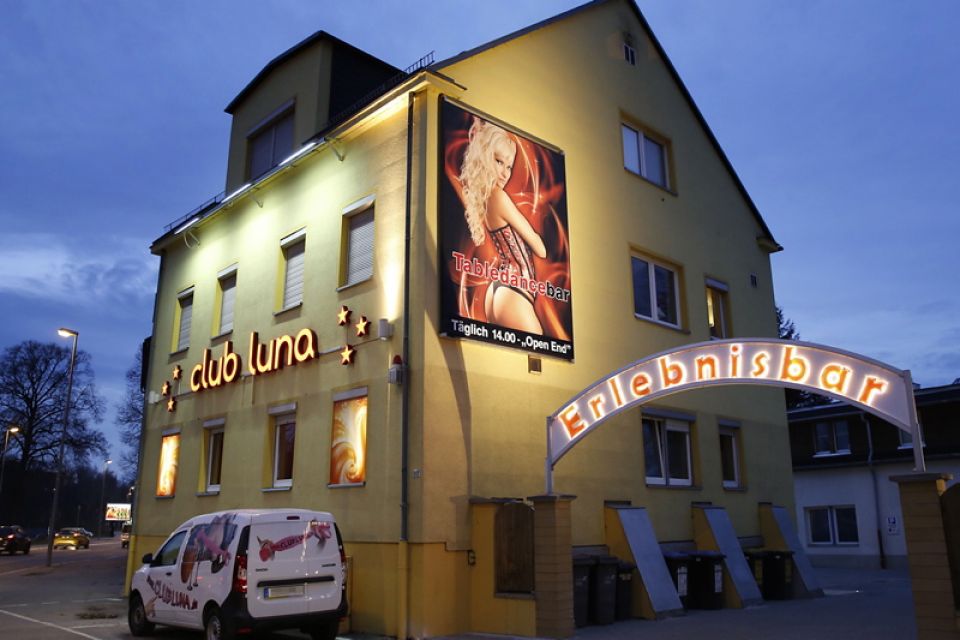 Club Luna's website