http://www.rld-europa.com
Aachen
Antoniusstraße, about 150m distant from the Rathaus. Background information here

Augsburg
The Hasengasse, to the east of the center. The Roter Hahn, a drinking place at the entrance to Hasengasse, apparently has a discreet back door. Photo here.
Baden-Baden
Laufhaus Baden, Balzenbergstraße 43 <!h3 id=BAYREUTH><!span><!Bayreuth<!/span><!/h3> <!p class="p1"><!span> <!P> <!walk-thru Club 69. Autobahn exit Bayreuth-North, first street right and then the second left>
Berlin
Berlin is the only city in Deutschland with no Sperrbezirke, i.e. no areas where prostitution is banned. Although in recent years the trade has grown on the Kurfürstenstraße to the extent that voices are being heard calling for the area to be listed as a Sperrbezirk during daytime. Additionally, a new shop on the corner of Kurfüstenstraße and Potsdamer Straße (LSD) has increased the 'erotic' aspect of the area. In 2008, plans for a Laufhaus in this area was rejected by the Stadtsrat.
This is a relevant video
Probably because of the lack of formal area(s), the trade has altered over the years. Prior to 1990, it could be found on the Kurfüstendamm, and on the Potsdamer Straße and some adjacent streets.
Potsdamer Straße now appears extinct but Bulowstraße is still active. More visibly, the Kurfüstendamm is not as 'lively' as it once was.
• Luxuswohnungen am Straßenstrich Kurfürstenstraße
Other possible places include Savignyplatz, Oranienburger Straße (and maybe Stuttgarter Platz)
The nearest thing that Berlin has to a Laufhaus is the Freudenhaus Hase in Wedding.
• Felicitas Schirow was the well-known owner of the brothel Cafe Pssst!, which ceased trading in 2015. This link goes to an earlier article, and this is a link directly to the Cafe Pssst! website. And this article gives information on the closing-down.
• <!A HREF="http://www.boomswing.com/?p=973" target=rl><!Article about Berlin in the inter-war years
• Artemis, Berlin's largest brothel in Halensee (Charlottenburg), which was subjected to a major police raid in April 2016
Sex Cinemas
Sex cinemas which offer more than just the chance to view films were, and still are, a speciality of Berlin.
"Sexy Modelle zeigen Dir nicht nur deinen Platz, sondern bieten darüber hinaus auch mehr. In einem Berliner Sexkino kannst du nicht nur Erotik-, Sex- und Pornofilme aller Art sehen, sondern dich von den Platzanweiserinnen verwöhnen lassen. Oder du machst im Kino eine nette Bekanntschaft und vergnügt dich mit privaten Spielen". (Sexy models do not only show you to your seat but also offer more. In a Berlin sex cinema, not only can you watch a film but you can also let yourself be spoilt by the usherette. Or you could strike up an acquainance in the cinema and engage in your own private games)
In einigen Sexkinos bieten auch Einige Sex zu günstigen Preisen an, andere Pornokinos lassen sie auch Paare rein. Einige Pornokinos haben Hinterzimmer, wo es nach dem Film so richtig abgeht, bei anderen gibt es die klassischen Filmkabinen. (In a few sex cinemas sex is also offered at reasonable prices, others let couples in. A few have back rooms for use after the film, others have classical film cabins.)
• Moni's Kino (Cinema), long-established institution
• Erotica Berlin, close to Alex
Bielefeld
Eckendorferstraße 29, east of center and about 200m before Hallenstraße
Böblingen
Eroscenter C33, Calwer Straße 33.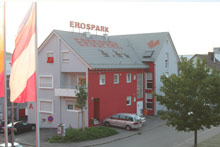 Erospark, Max-Eyth-Straße 10 - 12, 71065 Sindelfingen

Club Haus Mahdental 121, Mahdentalstraße 121, 71229 Leonberg
Bochum
Im Winkel, off Gussstahlstraße. The RoteHaus Laufhaus stands on the corner at the beginning of the street and another Laufhaus lies at the other end. The image at left shows Gussstahlstraße - im Winkel is off to the right further along - a fairly large sex shop is just to the left. A plan of 'im Winkel' is shown below.
The local slang names for the area include apparently "Gurke", "Eierberg" and "Riemenwalzwerk".
• Photos
• A report by a sex worker on the Laufhaus Bochum
How to Get There : from the Rathaus, go along Willy-Brandt-Platz and you will see Bochum West railway station ahead. Don't go as far as the station but turn right and then next left onto Gussstahlstraße. Bochum West (on the line between Bochum and Gelsenkirchen) does actually have an entrance directly onto Gussstahlstraße.
A casting German is an 'adult' film which shows some 'sites' of Bochum
Bonn
Eros Center, Immenburg Straße 17 - 21 (corner of Karlstraße)
The city has set up 'Verrichungsboxen' on the Immenburg Straße for use by street prostitutes. Cars are parked up in a secured environment. (These street prostitutes are taxed by way of a daily ticket that they must buy from automatic dispensers)
Braunschweig
Bruchstraße, which runs between Wallstraße and Friedrich-Wilhelm-Straße. Two iron gates stand at either side of the street. The one from Wallstraße stands open mostly, while the other from Friedrich-Wilhelm-Straße allows a permanent narrow entrance.
• Background information here

Bremen
Helenenstraße (off Vor dem Steintor), in the area known as "Das Viertel", which encompasses parts of the districts of Ostertor and Steintor.
• Background information here
<!Essener Straße 8, Haus Exotika>
Bremerhaven
Lessingstraße.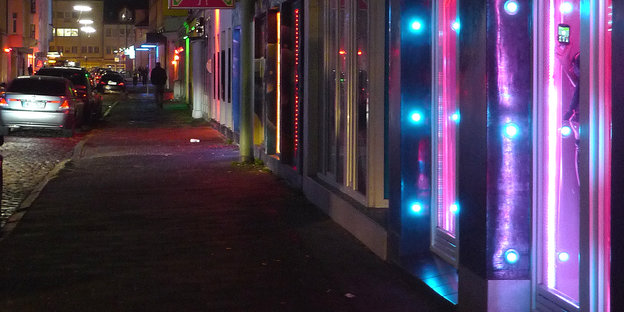 Chemnitz
Darmstadt
Bismarckstraße
Dortmund
Linienstraße, a partly blocked off street close to the railway station. More information on this website.
How to Get There : exit from the railway station by the Nordausgang, turn right, and then just before you come to crossroads you can see the Linienstraße partly blocked off on your left. Cars can also be driven in from the other end.
Formerly, there was large-scale street prostitution in the Ravensberger Straße which is now forbidden - see Ravensberger Straße.

Dresden
Eroscenter Haus Hamburg , Hamburger Straße 31. Further information here
Duisburg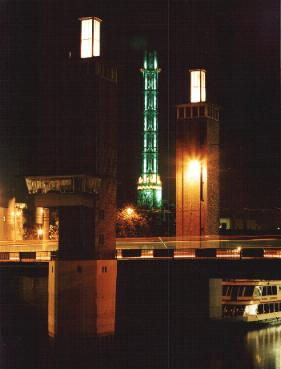 There are several walk-in brothels on Vulkanstraße, and the trade has now extended around the corner to Julius-Weber Straße and Charlottenstraße.
Some links :-

Lust Meile
Vulkanhaus
Laufhaus.
Sexxx Palace.
How to Get There : Vulkanstraße lies South-West of the city center. A good pointer is the tall chimney of the Duisburg Stadtwerke power station. As you can see from the picture, this tower is certainly visible from the Schwanentor Bridge over the Inner Harbor. You could also take the tram (903) or U-Bahn (U79) to Platanenhof, about 5 minutes walk away.
Newspaper articles on the Vulkanstraße
Monning on the border between Duisburg and Mühlheim, near the Zoo. Zooparkplatz.
Düsseldorf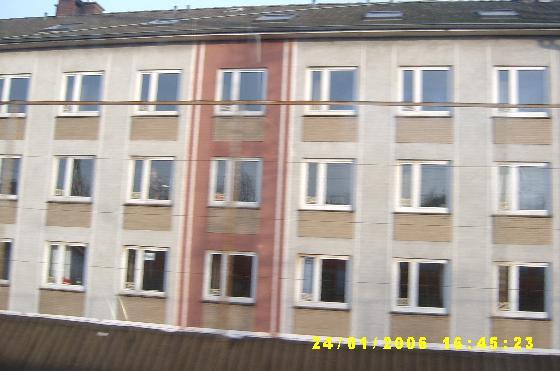 Hinter dem Bahndamm. The place consists of a five-storey building with each window numbered. This obviously creates problems for windows that are higher up. Seems not be a well-thought of place for general quality. The view to the left is from the railway line, South of the Central Station.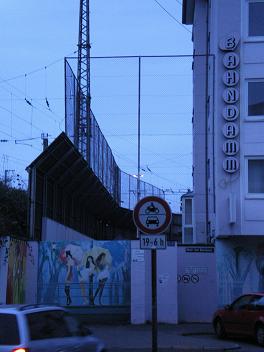 How to Get There : It is directly next to the railway line, south of the main station. Best way on foot is to go south from the railway station. If you exit from the main entrance, then you will need to go along the Hartkortstraße and pass under the railway line via Ellerstraße. From the eastern end of this bridge, you follow the railway line further along Vulkanstraße. Go along as far as it will go and then turn right.

<!Contact bar at Gustav-Poensgen-Str. 7 >

This is an advertising placard in the city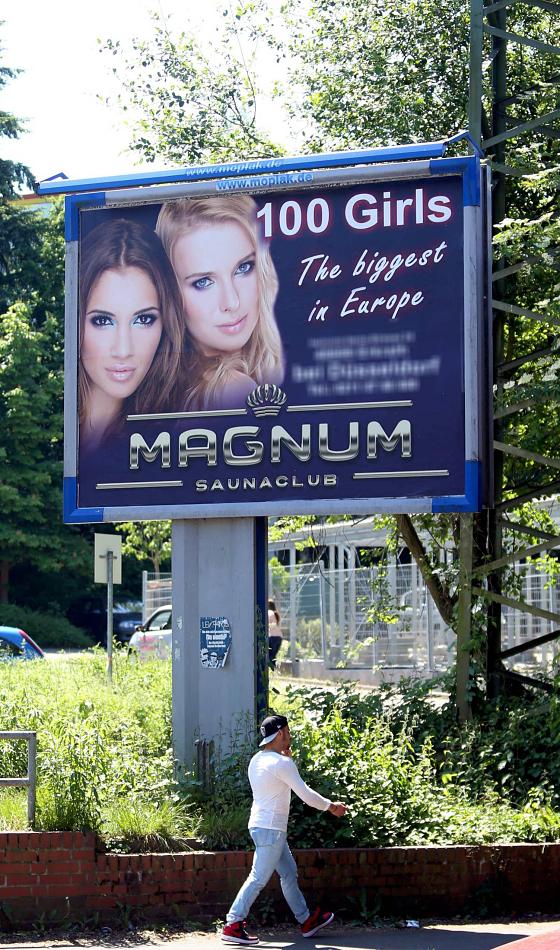 Magnum Sauna, Heinrich-Hertz-Straße 24, 40699 Erkrath,
• Im Puff nebenan ,

Erfurt
Laufhaus Erfurt, Am Stollberg 50
Essen
Located in a discreet cul-de-sac called Stahlstraße (cars can also be driven in).
How to Get There : It lies on the north-west edge of the city center, behind the Arbeitsamt on Berliner Platz. The U-Bahn has a station on Berliner Platz, from where you can go down either side of the Arbeitsamt. To the right side, you go down Segerothstraße with the former railway bridge before you and the new University quarter to your right - take the next left. Alternatively, start from the Limbecker Center on the southern edge of the Berliner Platz.
• Background information on the Segeroth area
• Photos
Flensburg
Oluf-Samsons-Gang, off Schifbrücke which goes along the harbor (this has come to an end, I think - although several scattered establishments exist in the general neighborhood of the Schifbrücke). The town was the headquarters of the Beate Uhse company until it moved to Hamburg in 2015.
Frankfurt-am-Main
The 'Bahnhofsviertel', east of the Central Railway Station - concentrated on the Taunusstraße and its side streets of Moselstraße, Elbestraße and Weserstraße. Exit from the main entrance of the railway station.
For example,
Crazy Sexy Eros-Center at Elbestraße 49-53.
Rotes Haus at Taunusstraße 34. <!Elbestraße 49-53>
• Background information here.
<!brothels also in Breite Gasse>
Friedrichshafen
The long-standing <!A HREF="http://www.bodensee-bordell.de/" target=rl>Bodensee Bordell, Flugplatzstraße 9 closed in 2015 because of a dispute with the owner of the building. However the Venus Saunaclub is just behind it at number 13. There is also the Rotes Haus, Aistegstrasse 31 and Club 64, Charlottenstraße 64. <!div id="explanation"> <!h3 ID="GIESSEN"><!span><!Giessen<!/span> <!p class="p1"><!span> <!P> <!contact bar: Bar Orchidee: Giessen-Heuchelheim, Rodheimer Str. 4, <!P> <!Oli's Bar: Bahnhofstr.
Göttingen
Haus Eros, Güterbahnhofstraße (laufhaus)
Hagen
Small blocked off street, the Dueppenbeckerstraße
How to Get There : From railway station, go straight ahead, right along the main shopping street until the Markischer Ring. Turn left, then right with the river on your right-hand side. The Dueppenbeckerstraße is the second on the left, angled backwards

Halle
Eroscenter Halle, Delitzscher Str. 80
X-Carree, corner of Delitzscher Straße 15/Am Güterbahnhof 1 - 3
• Photographs of the above <!Am Steintor 28. walk through brothel >
Hamburg
St Pauli and its Reeperbahn is obviously renowned. It is also more of a 'tourist' and general entertainment area than most red-light districts.
The police presence is very visible with the Davidwache station on the Reeperbahn itself. Legally every officially sanctioned working girl is required to submit to a medical examination every 2 weeks.
On the sectioned-off Herbertstraße, prostitution (behind windows) is allowed around the clock.

In the streets around Herbertstraße (Gunterstraße, Erichstraße, Friedrichstraße, Davidstraße, and Gerhardstraße), women are only allowed to be on the streets from 20:00 onwards. There are no street girls on the Reeperbahn itself. Although there are two brothels there -
• Paradise on the corner of the Reeperbahn and Große Freiheit
• Pink Palace (Sex House), opposite the Davidwache (police station)
also : • Video on the Pink Palace (Sex House)
The Große Freiheit (literally "Great Freedom") is a side street with several bars and club. In former years, several sex theatres here (Salambo, Regina, Colibri, Safari) would show live sex acts on stage. Latterly, the Safari was the only live sex theatre left in Germany but that has now closed - details here. A table dance club, Dollhouse, has taken over the premises of Salambo (and the Safari).

The district also contains the Erotic Art Museum, Bernhard 69. Open daily 1000 to midnight.
• Further Information on the Area, and History of the Reeperbahn
How to Get There : U-Bahn: St. Pauli; S-Bahn: Reeperbahn; (it is however within walking distance from Hamburg City Center, if you are in the mood)

Another district exists on the other side of the City Center adjacent to the Hauptbahnhof, namely St. Georg, centered on the Hansa Platz. This is a more 'traditional' district operating all times of the day, but with the 'quality range' being more widespread.
• Here you can find a few photographs of the St Georg area
• Straße soll nach Ex-Prostituierter Domenica Niehoff benannt werden - Road to be named after ex-prostitute
Just ouside Hamburg, in Pinnenberg
• Mosque versus Brothel in Pinnenberg
Hameln
Schlachthofstraße. 29. walk through brothel (not too sure whether it still exists)
Hamm
The Eros Center was closed in 2011 but I believe is now open again - see Eroscenter Hamm
<!(Previous picture)
<!There are no 'Sperrbezirke' in Hamm so this perfectly legal.>
How to Get There : Gallberger Weg, south of the town center, off Alleestraße or Richard-Wagner-Straße. By foot, you could follow the railway line southwards (eventually you follow an unfenced section of the railway) and turn off on Klutestraße. Gallberger Weg does meet the railway further south, although it is only a footpath at this point. The nearby zoo is a good landmark.

Hannover
There are two areas
in the center (underground station Steintor)
Reitwallstraße
Sex World, Reitwallstraße 4
Eros Corner, Reitwallstraße 5B
Reitwall 6, Reitwallstraße 6
and on the parallel Scholvinstraße
Eros Center, Scholvinstraße 2
Bangkok Hannover, Scholvinstraße 7
Eros 10, Scholvinstraße 10
slightly further afield - Braun 8, Braunstraße 8
Ludwigstraße
From the main railway station, take rear exit, turn left keeping the bus station on your left - Ludwigstraße is further along on the left
Heidelberg
Eroscenter Heidelberg, Güteramtsstraße 11
Erosocenter 13, Güteramtsstraße 11
Exclusiv Studio Heidelberg, Am Rohrbach
Heilbronn
Eroscenter Heilbronn, Hafenstraße 7
<!Sontheimer Str. 3 and 7 >
Kaiserslautern
<!Im Haderwald 4A>

Sexworld Kaiserslautern, Hafenstraße 7
Karlsruhe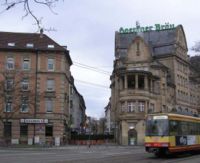 Brunnenstraße, between Kaiserstraße and Zähringerstraße
Eros Center, Brunnenstraße 13/15 <!Eros center, near Wolfartsweierer Straße.>

Kassel
Eroscenter Kassel, Wolfhager Straße 53
Kiel
Eroscenter Kiel, Wall 50 <!Wall, Flämische Straße, side streets >
Koblenz
Bordell Oasis, Kesselheimer Weg 38 (directly on the B9)
Köln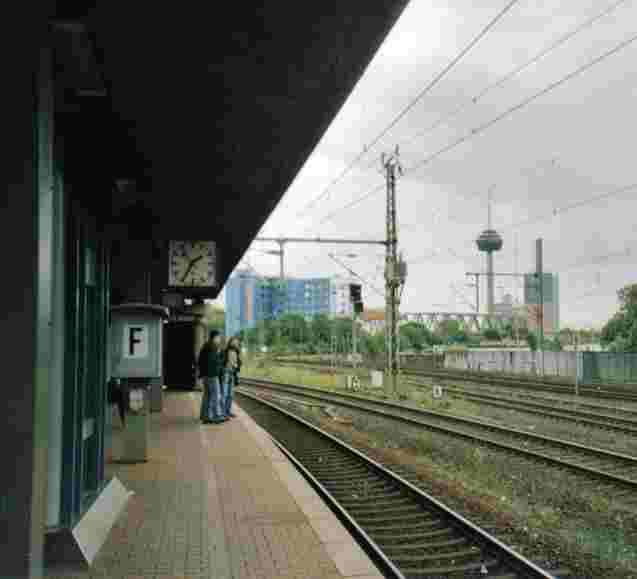 Pascha claims to be the largest brothel in the whole of Europe. <!Prices appear to be 30 Euro, although the girls might possibly try to get another 20 Euros off you for slightly more service> Notices from the management claim that you can complain to them if you are dissatisfied with anything. You have to pay 5 Euros entrance fee.
There is also another brothel directly opposite - the Eros Center Köln
How to Get There : Location is Hornstraße. Take the S-Bahn to Nippes and Pascha is visible from the train - see photo, taken from Nippes station, where it is the building to the right of the clock.

• Zehn Jahre Straßenstrich >>Geestemünder Straße<< in Köln (in German/auf deutsch)
<!Also brothels (but seemingly not too well-recommended) at > <!Other possible addresses : Antwerpener Str. 61, Mauritiuswall 73, Tuermchenswall 66 b and Brabanter Str. 8.>
<!Bars in Gereonswall off Luebeckerstr. >
Konstanz
<!tanz

<!Reichenaustraße 216 >

<!B33 towards Radolfzell (on right hand side) > House 24, Byk-Gulden-Straße 24
Krefeld
Eros Center, Mevissenstraße 70
• There has recently been questions asked about how the Eros Center came into being, with implications of corruption.
<!!brothel in Inrather Str. 811>
Leipzig
Angels Sexworld, Dessauer Straße 24
The Haus am Wasserturm on Torgauer Straße was a former Laufhaus which has been re-opened nominally as the FKK Leipzig, but a separate Laufhaus still exists, for which entry is free (the FKK club requires an admission charge of about € 55). Further details here
How to get there : Get a tram from the Central Station. The house is on the right-hand side of Torgauer Straße and you can't miss it.
• Report on the closure of the original Haus am Wasserturm in 2012
<!Heiterblickstr. camperhome. along Torgauer Str towards Torgau, 1 km beyond railway crossing turn left into Heiterblickstr., keep going for 700 m >
Street prostitution is illegal in Leipzig so be warned.
• Report on the situation in Leipzig shortly after 1990

Lübeck
Clemensstraße, now defunct.
Lüneberg
Mainz
Crazy Sexy Eros Center, Bahnhofstraße 17
How to get there : Leave the railway station via the main entrance and Bahnhofstraße is on your right. 50 meters further on you will come to a 6-storey building.
Mannheim
Lupinenstraße, the most westerly side street of the Mittelstraße, north of the River Neckar.
• Background information here

Minden
Rampenloch, a cul-de-sac to the West of the town center.
• Background information here
München
Caesars World, Stahlgruberring 23
Leierkasten, Ingolstädter Str. 38
Vitalia, Helene-Wessel-Bogen 16
Herz As, Triebstraße 11a,
Landsberger Str.: near main railway station, girls in cars with rooms nearby
Laufhaus Hansastraße 9
Mönchengladbach
Kuenkelstr. 54 (probably defunct)
Mühlheim
Nürnberg
Frauentormauer between Färbertor and Spittlertor. The Frauentormauer is the name borne by the southern part of the old city walls. The red-light district lies within the wall.
• Cheap Drinks to attract the Customers
Oberhausen
Flasshofstraße, a fenced-off area of the said street, including a 'Laufhaus'. See this website.
• Photos
• Remembering the beginnings of the red light district in 1963
This short video gives a few brief glimpses of the street. Otherwise it does not show a great deal, not too sure what its exact purpose is.
These two videos were filmed during the 50th anniversary celebrations
How to Get There: from the main railway station, turn right and follow the railway line as much as possible. You need Hermann-Albertz Straße which is the road parallel to (and immediately after) Markstraße, the main shopping street. Flasshofstraße is a side street close to the railway bridge on Hermann-Albertz Straße. Alternatively, the 143 bus travels alongs Grenzstraße on the other side of Flasshofstraße, on its journey between Essen-Borbeck and Obermeiderich railway stations (via Oberhausen Hbf.).
Oldenburg
Eros-Center-Oldenburg, An der Braker Bahn 6
Goldener Anker, Stau 47
Osnabrück
Das Rote Haus, Eisenbahnstraße 18, opposite the main railway station
Paderborn
Passau
Laufhaus Passau, Villa Medici, Haitzingerstraße 20
Pforzheim
(Eros-Center Crazy Sexy. Leave motorway A8 in Pforzheim-West, 500 m towards Pforzheim at first traffic lights turn left, on right hand side). uncertain about the current state of this information.
Regensburg
Eroscenter Regensburg <!"Haus Eden", Guerickestr. >
<!Club Salambo, Luitpoldstr. 25, near railway station>
Reutlingen
Erosarena Reutlingen, Albstraße 74
Erospark (Jaguar) Reutlingen, Carl-Zeiss-Straße 23/1
Rostock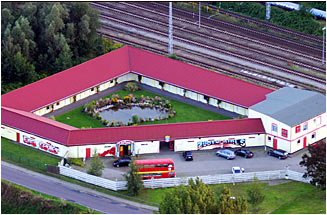 Eros Center, Am Bahnhof Bramow 10 - about halfway between Rostock center and Warnemunde.
• Some information on the opening of the Eros Center and the crime-ridden situation before it was opened, can be viewed here <!camperhome area, Muehlendamm, cross bridge, after 200 m turn left>

Saarbrücken
Arabella, Brebacher Landstraße 6 - 8
Eroscenter Saarbrücken , Kaiserstraße 50
Sindelfingen
Erospark Sindelingen, Max-Eyth-Straße 10
Stuttgart
The 3 Farben Haus, Bebenhäuser Hof 2-6. A walk-through brothel close the main pedestrian area in the city center. Coming from the main railway station look in the small streets on the left hand side near department store Hertie. Alternatively, from the Marktplatz follow the Hirschstraße with the Rathaus on your left - Bebenhäuser Hof is then on your right.
Laufhaus in the vicinity of the airport
City Eroscenter, Leonhardstr. 7
In a famous case of December 2014, the owner of a well-known brothel called 'Paradise' was arrested on suspicion of trafficking and fraud.
Trier
Eros-Center Luxemburger Straße 61, between Roemer- and Konrad-Adenauer-Brücke
Tübingen
Erosvilla, Kupferhammer 23A, close to the Westbahnhof
Ulm
Two addresses, covered by the same website
Eros-Center Blaubeurerstraße 64/1
Zeppelinstraße 26
Hotel Alter Herzog, Zinglerstraße, corner of Schillerstraße.
Wiesbaden
Crazy Sexy Eros Center, Mainzer Straße 129, near autobahn
Worms
Hühnerhaus, Sommerdamm 30
Würzberg
Haus d'amour, Randersackerer Str. 64
Wuppertal
Wesendonkstraße 16-18 (corner Hofaue). Very close to the Schwebebahn (overhead monorail). Was thought to be defunct but now appears to be operating again.