http://www.cym18.com
Augsburg
The Hasengasse, to the east of the center. The Roter Hahn, a drinking place at the entrance to Hasengasse, apparently has a discreet back door. Photo here.
Baden-Baden
Laufhaus Baden, Balzenbergstraße 43 <!h3 id=BAYREUTH><!span><!Bayreuth<!/span><!/h3> <!p class="p1"><!span> <!P> <!walk-thru Club 69. Autobahn exit Bayreuth-North, first street right and then the second left>
Böblingen
Eroscenter C33, Calwer Straße 33.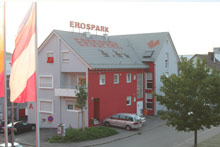 Erospark, Max-Eyth-Straße 10 - 12, 71065 Sindelfingen

Club Haus Mahdental 121, Mahdentalstraße 121, 71229 Leonberg
Friedrichshafen
The long-standing <!A HREF="http://www.bodensee-bordell.de/" target=rl>Bodensee Bordell, Flugplatzstraße 9 closed in 2015 because of a dispute with the owner of the building. However the Venus Saunaclub is just behind it at number 13. There is also the Rotes Haus, Aistegstrasse 31 and Club 64, Charlottenstraße 64.
Heidelberg
Eroscenter Heidelberg, Güteramtsstraße 11
Erosocenter 13, Güteramtsstraße 11
Exclusiv Studio Heidelberg, Am Rohrbach
Heilbronn
Eroscenter Heilbronn, Hafenstraße 7
<!Sontheimer Str. 3 and 7 >
Karlsruhe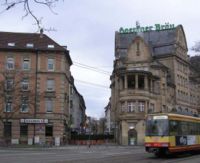 Brunnenstraße, between Kaiserstraße and Zähringerstraße
Eros Center, Brunnenstraße 13/15 <!Eros center, near Wolfartsweierer Straße.>

Konstanz
<!tanz

<!Reichenaustraße 216 >

<!B33 towards Radolfzell (on right hand side) > House 24, Byk-Gulden-Straße 24
Mannheim
Lupinenstraße, the most westerly side street of the Mittelstraße, north of the River Neckar.
• Background information here

München
Caesars World, Stahlgruberring 23
Leierkasten, Ingolstädter Str. 38
Vitalia, Helene-Wessel-Bogen 16
Herz As, Triebstraße 11a,
Landsberger Str.: near main railway station, girls in cars with rooms nearby
Laufhaus Hansastraße 9
Nürnberg
Frauentormauer between Färbertor and Spittlertor. The Frauentormauer is the name borne by the southern part of the old city walls. The red-light district lies within the wall.
• Cheap Drinks to attract the Customers
Passau
Laufhaus Passau, Villa Medici, Haitzingerstraße 20
Pforzheim
(Eros-Center Crazy Sexy. Leave motorway A8 in Pforzheim-West, 500 m towards Pforzheim at first traffic lights turn left, on right hand side). uncertain about the current state of this information.
Regensburg
Eroscenter Regensburg <!"Haus Eden", Guerickestr. >
<!Club Salambo, Luitpoldstr. 25, near railway station>
Reutlingen
Erosarena Reutlingen, Albstraße 74
Erospark (Jaguar) Reutlingen, Carl-Zeiss-Straße 23/1
Sindelfingen
Erospark Sindelingen, Max-Eyth-Straße 10
Stuttgart
The 3 Farben Haus, Bebenhäuser Hof 2-6. A walk-through brothel close the main pedestrian area in the city center. Coming from the main railway station look in the small streets on the left hand side near department store Hertie. Alternatively, from the Marktplatz follow the Hirschstraße with the Rathaus on your left - Bebenhäuser Hof is then on your right.
Laufhaus in the vicinity of the airport
City Eroscenter, Leonhardstr. 7
In a famous case of December 2014, the owner of a well-known brothel called 'Paradise' was arrested on suspicion of trafficking and fraud.
Tübingen
Erosvilla, Kupferhammer 23A, close to the Westbahnhof
Ulm
Two addresses, covered by the same website
Eros-Center Blaubeurerstraße 64/1
Zeppelinstraße 26
Hotel Alter Herzog, Zinglerstraße, corner of Schillerstraße.
Würzburg
Haus d'amour, Randersackerer Str. 64