http://www.cym18.com/nederland.html
<!script type="text/javascript" language="javascript" charset="utf-8" src="//adspaces.ero-advertising.com/adspace/2199695.js">
Alkmaar
Achterdam
How to Get There : exit Alkmaar railway station by the main entrance and turn left; on reaching a canal turn left again.

Amsterdam
There are actually three red light areas in Amsterdam.
What tends to be known as the Red Light District (but more locally as De Wallen) lies south of Centraal Station, bounded by the Warmoestraat, Nieuwmarkt and Damstraat.
The relevant streets are Barndesteeg, Bethlehemsteeg, Bloedstraat, Boomsteeg, Dollebegijnensteeg, Enge Kerksteeg, Goldbergersteeg, Gordijnensteeg, Molensteeg, Monnikenstraat, Oudekerksplein, Oudekennissteeg, Oudezijds Achterburgwal, Oudezijds Voorburgwal, Sint Annendwarsstraat, Sint Annenstraat, Stoofsteeg and Trompettersteeg.
In 2017, the city authorities intervened more directly and sponsored the opening of My Red Light, Boomsteeg 1A - which is run more directly by sex workers themselves. See a newspaper report here
Read a report from the British Guardian newspaper on the clamp down on prostitution in the area during 2007/2008.
<!iframe src="//embeds.vice.com/?playerId=YjMwNmI4YjU2MGM5ZWRjMzRmMjljMjc5&aid=vice.com/vice-special&vid=ZkMHRlbTpKBx06GrXvI2PeVIYHjXNNJ-&embedCode=ZkMHRlbTpKBx06GrXvI2PeVIYHjXNNJ-&cust_params=embdom%3Dhttp%3A%2F%2Fwww.vice.com%2Fnl%2Fvideo%2Fde-allerlaatste-peepshow-van-nederland-houdt-ermee-op%26topic%3Dnsfw%26aid%3Dde-allerlaatste-peepshow-van-nederland-houdt-ermee-op%26auth%3DVICE+Redactie%26keywords%3DNederland%26ac%3Dyes%26country%3Dnl%26contentId%3DZkMHRlbTpKBx06GrXvI2PeVIYHjXNNJ-&ad_rule=1&description_url=http%3A%2F%2Fwww.vice.com%2Fnl%2Fvideo%2Fde-allerlaatste-peepshow-van-nederland-houdt-ermee-op&autoplay=1&share_url=http://www.vice.com/nl/video/de-allerlaatste-peepshow-van-nederland-houdt-ermee-op" width="1000px" height="563px" frameborder="0" webkitallowfullscreen mozallowfullscreen allowfullscreen>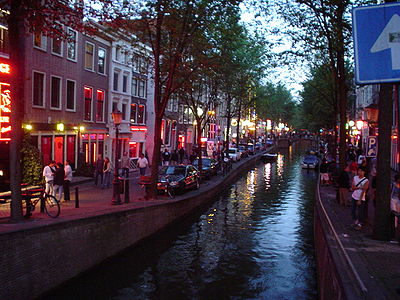 Otherwise :
The Singelgebied is along the Singel near Lijnbaanssteeg and Oude Nieuwstraat. Yab Yum, one of Amsterdam's most exclusive brothels was located at Singel 295 until closed by the local authorities in January 2008. Relevant streets are Korte Kolk Steeg. Spuistraat, Teerketelsteeg, Nieuw Oude Straat, Lijnbaanstraat, the Singel itself, Bergstraat, Korsejespoortsteeg .
Ruysdaelkade, De Pijp
How to get there : : Trams 16, 24 from the center.
Arnhem
This information is probably old - I think these areas have been closed down
Spijkerkwartier (near industrial area Kleefsewaard, near AXO)
Car pick-up zone : Industrial area Kleefsewaard, (side street Westervoordsedijk)
"The Boat" is permanently docked on the River Rhine. The prices are clearly on display.
Den Haag
Geleenstraat (shown) / Hunstraat
Doublestraat (in the old town)

Another area, Poeldijksestraat, was closed down in 1999 and the buildings demolished in 2006.
Car pick-up zone: Lulofstraat
Deventer
Bokkingshang
Eindhoven
Edisonstraat / Baekelandplein
Groningen
Nieuwstad, Hoekstraat/Muurstraat
Auto pick-up zone: Bornholmstraat
Haarlem
Begijnhof: 3 courts - Het Steegje, Rode Lantaarn, Het Poortje (this latter-named possibly requires an entry fee)
10 minutes from the station

Heerlen
Car pick-up zone (known in Dutch as Tippelzone)
Old zone: Sittarderweg
Newer zone: Imstenradenweg, adjacent to the industrial area in Beitel
Leeuwarden
De Waeze: 4 courts - Esperanza, Love and Joy, Moulin Rouge, Walhalla
Nijmegen
<!Stieltjesstraat (head north from the railway station) > Nieuwmarkt 24 to Nieuwmarkt 40. Near to Kronenburg Park
Tippelzone : Nieuwe Marktstraat
Rotterdam
Rotterdam does not have a specific red-light district as such, but it does have various clubs and 'private houses' (privehuizen).
Former Tippelzone : Keileweg (closed in 2005)
Utrecht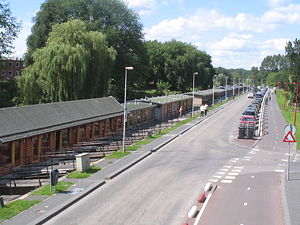 On the Zandpad, more than a hundred canal boats are moored to a long wharf north of the Rode Brug (red bridge).
There is also a street in the city center - Hardebollenstraat.
Tippelzone : Europalaan (not far south of Zandpfad)
<!script type="text/javascript" language="javascript" charset="utf-8" src="//adspaces.ero-advertising.com/adspace/2199695.js">