Krefeld
October 2017
Korruptionsverdacht in Krefeld Ermittlungen 35 Jahre nach Bordell-Genehmigung
Suspicion of Corruption in Krefeld. Enquiries 35 years after brothel was granted permission to operate.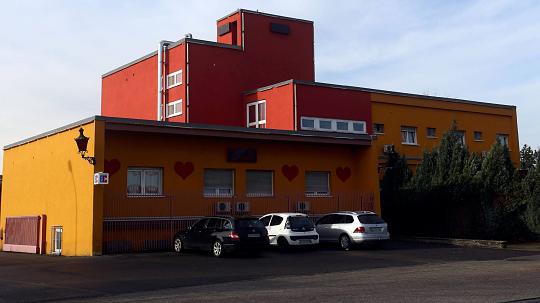 Hat die Krefelder Stadtverwaltung bei der Genehmigung eines Bordells beide Augen zugedrückt? Ein im Auftrag des Krefelder Oberbürgermeisters erstelltes Gutachten hält das für möglich. Nun prüft die Staatsanwaltschaft den Fall. Von Norbert Stirken
Did the Krefeld authorities turn a blind eye during the granting of permission to operate a brothel? A report produced for the Krefeld Oberbürgermeister considers this to be a possibility. Now the state attorney is examining the case.
Oberbürgermeister Frank Meyer hat 35 Jahre alte Verwaltungsvorgänge in Zusammenhang mit dem Bordell an der Mevissenstraße prüfen lassen. Das Ergebnis liegt auf dem Tisch, bleibt aber der öffentlichkeit vorenthalten - weil es brisant ist. Der Chef der Stadtverwaltung reichte den Prüfbericht gleich an die Staatsanwaltschaft weiter. Meyer hatte offenbar einen Anfangsverdacht: Korruption.
Oberbürgermeister Frank Meyer has looked into the authority's connections with the brothel on Mevissenstrasse over the past 35 years. The results lie on his desk but have been witheld from ther public - because they are too controversial. The head of the city's administration has has handed the report over directly to to the state attorney. Meyer obviously has an initial suspicion of corruption.
Die beiden Ratsfrauen Heidi Matthias und Barbara Behr (Die Grünen) hatten es geahnt: Die Krefelder Stadtverwaltung habe offenbar seit den 1980er Jahren beim Genehmigungsvorhaben "Eros-Center Mevissenstraße" beide Augen zugedrückt. Auf ihre Anfragen im Verwaltungsausschuss vor rund acht Monaten reagierten Vertreter der Stadt äußerst gereizt. Besser nicht dran rühren, lautete die Devise. Unter anderem die Einstufung des Bordells als Wohnheim sei damals wie alles andere unter Beteiligung der Politik erfolgt. "Das Thema Eros-Center sollte offensichtlich totgeschwiegen werden", orakelte Heidi Matthias. Staatsanwaltschaft prüft mögliche Korruption
Both Ratsfrauen Heidi Matthias and Barbara Behr (the Greens) had suspected it : the Krefeld city authorities had obviosly averted their vision since the 1980s with respect to procedures for allowing the "Eros-Center Mevissenstraße" to operate. The town'a represenatives became very excited in response to their enquiries to the administration about eight months ago. The name of the game appears to be evasive. Among other things, the classification of the brothel as residential accommodation appears at the time, as with everything else, to have proceeded with the consent of the politicians. "The theme of the Eros Center should be publicly put to bed", predicted Heidi Matthias. The state lawyers are investigating any possible corruption.
Das Ergebnis einer internen Untersuchung der Vorgänge durch das von Oberbürgermeister Frank Meyer (SPD) beauftragte Rechnungsprüfungsamt ist brisant. Meyer leitete den Prüfbericht an die Krefelder Staatsanwaltschaft weiter. Deren Sprecher Axel Stahl erklärte auf Anfrage unserer Redaktion: "Wir prüfen den Sachverhalt auf noch verfolgbare Straftaten, das heißt auch unter dem Blickwinkel eventueller Korruption."
The results of an internal investigation of events by an auditing organisation contracted by the Oberburgermeister Frank Meyer (SPD) are controversial. Meyer has forwarded their report to the state lawyers in Krefeld. Their spokesman Axel Stahl responded to our enquiries: "We are looking at the contents for any criminal acts that need following up; that means we are also looking for any possible corruption.
Und schon rattert das Kopfkino: Haben sich kommunale Entscheidungsträger mit amourösen Dienstleistungen im Eros-Center verwöhnen lassen? Haben sie Geld oder andere Wertgegenstände angenommen? Paragraf 331 Strafgesetzbuch beschreibt die Vorteilsnahme im Amt. "Ein Amtsträger, ein Europäischer Amtsträger oder ein für den öffentlichen Dienst besonders Verpflichteter, der für die Dienstausübung einen Vorteil für sich oder einen Dritten fordert, sich versprechen lässt oder annimmt, wird mit Freiheitsstrafe bis zu drei Jahren oder mit Geldstrafe bestraft", heißt es im Absatz 1.
So some things come to mind. Did the local representatives 'ease through' the provision of amourous services in the Eros Center? Did they accept money or other financial inducments? Paragraph 331 of the Law Book deals with accepting 'perks' while in office. Anyone accepting bribes can be sentenced to prison for three years or fined.