Rouen
Les belles de nuit contrôlées à Rouen
Ladies of the night in Rouen subjected to investigation
Publié / published le 19/03/2011
La pression policière est de plus en plus forte à Rouen et au Havre. Des contrôles d'identité ont eu lieu dans la nuit de jeudi à vendredi.
The police presence has become more and more evident in Rouen and Le Havre. Some identity checks took place during the night on Thursday and Friday.
Si la prostitution n'est pas interdite, le racolage est sanctionné
Although prostitution itself is not forbidden, soliciting can be punished
Le vaste contrôle d'identité mené par les services de police dans les quartiers << chauds >> de Rouen, au cours de la nuit de jeudi à hier vendredi n'est pas passé inaperçu. Surtout aux yeux des riverains qui ne cessent de se plaindre des nuisances générées par l'activité nocturne des prostituées. En quelques heures cette nuit-là, trente-quatre << belles de nuit >>, hommes et femmes, ont ainsi été contrôlées sur leur << lieu de travail >>. Quelques heures auparavant, deux femmes roumaines, âgées de 24 ans et 23 ans, ont été interpellées par la brigade anticriminalité en plein ébats amoureux dans la voiture de leur client respectif.
The large-scale identity checks carried out by the police in the red-light districts of Rouen during the course of the night on Thursday and yesterday did not go unnoticed. Especially by the residents who have never ceased to complain of the general nuisance generated by the nocturnal activities of the prostitutes. Within a few hours, about thirty to forty "ladies of the hight", plus some males, had their identies checked at their "place of work". A few hours previously, two Romanian women, aged 24 and 23, had been questioned by the police after been caught in the act in the automobiles of their respective clients.
Toutes les rues répertoriées comme des endroits où la prostitution s'exerce régulièrement, ont été passées au peigne fin par les forces de l'ordre - une quinzaine de policiers de la compagnie départementale d'intervention - qui avaient été mobilisées sur réquisition du procureur de la République. Pour la majorité, ce sont de très jeunes femmes d'origine roumaine et nigériane qui font le commerce de leurs charmes à Rouen. Il y a aussi beaucoup de travestis de nationalité péruvienne.
All the streets regularly used by prostitutes were finely combed by the forces of law and order - about 15 officers in total from the local operational section, who had been mobilized under requisition from the public prosecutor of the Republic. In most cases it is very young women from Romania or Nigeria who exercise thier charms in Rouen. There also quite a few transvestites of Peruvian nationality.
Rappel à la loi
Si ces opérations policières sont avant tout destinées à dissuader le proxénétisme, il s'agit bien également d'apporter une réponse au mécontentement des riverains qui n'hésitent plus à faire signer des pétitions contre la prostitution au pied de leurs immeubles.
Call to the law
If these operations were primarily designed to discourage prostitution,they also acted a response to the discontent of the local who have never been reluctant in drawing up petitions protesting about the prostitution taking place in front of their homes.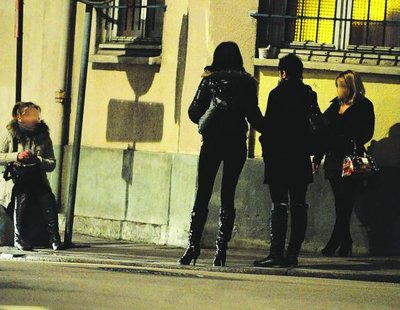 Depuis le début de l'année, vingt-cinq prostituées ont été interpellées à Rouen et au Havre pour racolage actif sur la voie publique. A chaque fois, elles sont placées en garde à vue dans les locaux de la brigade des moeurs. La plupart du temps, sauf en cas d'infraction à la législation sur les étrangers, elles font l'objet d'un rappel à la loi. Les peines de prison sont très rares, mais le 3 mars dernier, le tribunal correctionnel du Havre a fait une exception en condamnant deux prostituées roumaines à deux mois d'emprisonnement avec sursis pour racolage. A Rouen, on estime à 150 le nombre de femmes qui se livrent régulièrement au << plus vieux métier du monde >>.
Since the beginning of the year, twenty-five prostitutes have been questioned in Rouen and Le Havre for active soliciting on the public highway. In each case, they had been observed by the vice-squad. In most case, apart infractions against immigration legislation, the case is sent to law. A prison sentence is very unusual but on 3rd. March last the correctional tribunal in Le Havre made an exception in sentencing two Romanian prostitutes to two months suspended imprisonment for soliciting. In Rouen, it is estimated that about 150 women regularly follow "the oldest trade in the world"