General and Historical Aspects
The name 'Reeperbahn' appears to have had its origin in a Plattdeutsch word 'reep' meaning rope, referring to the trade in rope-making in the 18th and 19th centuries for the ships in Deutschland's biggest harbor. The area is often called the 'Kiez' locally.
In the 19th century many forms of entertainment were banned from the city's more respectable, and Protestant, medieval core. Consequently, this neighborhood near the great port developed entertainment options of its own, this including theaters and not just the more 'dubious' options more usually associated with the area. Hamburg's first theater opened on the Reeperbahn in 1841.
This aspect of the area continues today - the red-light attractions runs parallel with other 'more respectable' entertainment.
The area occupied the area between the walled city of Hamburg and the walled city of Altona. The latter city was Danish up until the 1860s, and was in fact the second largest city in Denmark. It became briefly a joint Prussian/Austrian teritory for a few years only, before becoming so;e;y German (if you know all about Bismarck's campaigns in the 1860s, you will know the background history to all this. The area was flattened by Napoleon's troops - for military purposes. 5000 buildings were burnt down overnight, allowing a clear field of view from Hamburg's walls. Re-buildings seems to have been fairly swiftly rebuilt once the French left but it does mean that traces of the area's history before then has effectively vanished.
Not that there appears to much of a history previously anyway. Hamburg appears to have taken an interest from the early 1600s, largely for military reasons. The area was then called 'Hamburger Berg' (Berg being a hill), although this hill was removed almost immediately in 1620 in order to provide a clear view for the military from the vicinity of the Millerntor gate on the city walls and to provide material for the strengthening of these fortifications. Officially residence in the area seems to have been discouraged for quite a long time but a small settlement seems to have taken root anyway. A plague house was built here in 1605-1607 - this was re-named as a hospital in 1797 but was soon destroyed in the aforementioned destruction by the French. But accounts seem to associate the plague house with this general idea of Hamburg and Altona using the area for activities that they didn't want within their own city walls.
Occupations which were causing inconvenience in the city were banished to the area from the early 17th century onwards. The ropemakers appear to have first come here in 1633, although tens to state that this was because the city was too constricted rather than that they were actually banished to the area. Port and shipbuilding facilities also started to be important.
The Reeperbahn in its original form ran in a straight line (for about 930 meters) between the Millerntor gate of Hamburg and the Nobistor gate of Altona. Another 'rope street' was the parallel Simon-von-Utrecht Strasse.
Hamburg re-organized the area into an official district in 1833 and re-named it St. Pauli. The walls and gates were pulled down in 1860/61. Today the name Millerntor lives on, as in the name of FC St Pauli's stadium, and you have roads like the Holstenwall and the linear park known as the Wallanlage (wall meaning rampart) as reminders.

The area was up-graded in 1894 but until the Greater Hamburg Law came into being in 1937, St Pauli was divided between Hamburg and Altona. For example, Grosse Freiheit belonged to Altona.
The Landunsbrücke dates from 1910 and the Elbtunnel from 1911
Officially the Nazis wanted to destroy St Pauli altogether and erect a new Party Headquarters - in practise, repression was introduced 'gradually' and not seemingly fully. Strippers were initally ordered not to move when they had disrobed completely and were later banned completely, along with prostitution. Although at the same time it appears that this latter trade was actually allowed to continue, on the Herbertstrasse. It was actually the Nazis who erected the barriers at each end of the street which remain to this day. The inhabitants of the Chinatown which lay on Schmuckstrasse were deported to Neuengamme concentration camp.
Grosse Freiheit
It is often said that the street's name stems from the fact that Catholics were allowed to practise their religion here at a time when this district did not yet belong to Hamburg - they were forbidden from doing so in Protestant Hamburg proper. The problem with that staement is that the area did not belong to the Hamburg 'sphere of influence' - it belonged to Altona, and it appears that the Danish rulers of Holstein decided quite early on (1658) that it was maybe to their advantage to allow toleration of Catholicism in Altona. According to this version of the story, the name of the street is in recognition of the trade and religion freedom which existed in Altona in sharp contrast to Hamburg - this included allowing settlement of workers with no guild affiliation and/or no religious attachment.
A Catholic Church is still an incongrous feature of this street to the very day. Work on the original was started in 1660 but this was burnt down during the Burning of Altona in 1713 during the Great Northern War. The second church was put up during 1718-1721 and named St. Joseph. Eventually this church came to contain an important collection of baroque art which was however largely destroyed during the bombing during the Second World War. By 1944, the church itself was almost completely destroyed, only the facade remaining, although severely damaged itself. From 1953 to 1955 the church was restored under Georg Wellhausen - strictly speaking only the facade on Grosse Freiheit was restored, the church behind it being completely rebuilt anew in a more modern style.In 1977/78 work was carried out to 'restore' the the original baroque features.
The Safari Club was the last club with live-sex shows to shut down.

Theaters
Operettenhaus , a musical-theatre on the Reeperbahn. It presented 'Cats' for many years and more recently has put on 'Mamma Mia'.

St. Pauli Theater is situated right next to the Davidwache (see photo further down).

It came into being originally on 24th May 1841, as the "Urania-Theater".

Imperial Theater

Schmidts Tivoli
The Beatles
There is also the Beatles 'heritage' (and other Liverpool groups as well). They discovered that Hamburg was still open when Liverpool was shut. The Beatles, at that time with Pete Best on drums and Stu Sutcliffe on bass, arrived in Hamburg in August of 1960 for the first of several stays in the city.

Major Locations:
Kaiserkeller Grosse Freiheit 38. Also run by Bruno Koschmider and the Beatles played there 31 Jul 60 and, as a result of n the Indra closing, from 4 Oct to 30 Nov 60 . The club has gone back to calling itself Kaiserkeller and it is clearly marked. .

Star Club Grosse Freiheit 39. The Beatles returned to play at this new venue from 13 April (its opening date) to 31 May 62 (apparently, they learnt of Stu Sutcliffe's death as soon as they arrived in the city), and at the end of the year from ??? to 14 November 62 and 18 to 31 December 62 (by this time of these last two stints they were beginning to encounter major success - they had released 'Love Me Do' in Britain and recorded 'Please Please Me'). There is a big old church next door to the building complex, across the street from the Kaiserkeller. To find No 39 you need to go through the archway to an off-the-street court. It is no longer the Star Club. In fact, this is not the original building. Horst Fascher is a local legend who managed (along with Manfred Weissleder) the Star Club when the Beatles performed there, as did the likes of Bill Haley, Jerry Lee Lewis, Fats Domino, Ray Charles, Little Richard, Cream, Jimi Hendrix and the Small Faces. "When the Star Club opened the Reeperbahn started to boom. The stars came and they were close enough to touch, not like these days where they're so far away they're just tiny figures on the stage," says Fascher. "When it closed it down in 1969 a light went out in St. Pauli." It later burned down in 1987. Previous to it being the Star Club it had been the Stern Cinema.

Indra Club Grosse Freiheit 64. This is the first club in Hamburg in which the Beatles played and was run by Bruno Koschmider. This club closed in October 1960 and the Beatles moved to the Kaiserkeller, although nowadays a club with the same name does exist on the site.

Top Ten Club Reeperbahn 136. They played there 27 March 1961 - 2 July 1961 and lived upstairs. Originally they had been enticed here in November 1960 but as they were still under contract to Koschmider, he was able to extract 'revenge' by reporting George for being underage and contriving a charge of arson - resulting in the Beatles leaving the country. They lived in the attic above the club.

Bambi Kino Paul-Roosen Strasse 33. This little blue-gray house about a block up from the corner is where the Beatles lived when they first came over to Hamburg and were playing at the Indra. They "lived in squalor" there around 17 Aug 60.
For more details see Clubs connected with Beatles
<!This is link to an article in which relates a decline in St. Pauli and an attempt to evoke the Beatles to try and re-invigorate the area. Although it has also set off some 'controversy' about non-inclusion of Pete Best. >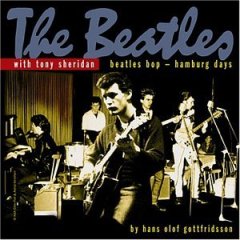 Davidwache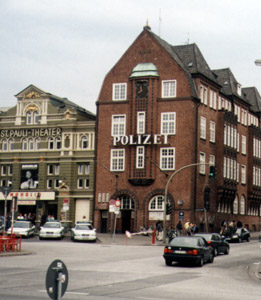 The Davidwache is officially the HQ of the Hamburger Polizeikommissariat 15 and is located on the Reeperbahn itself, at the corner of Spielbudenplatz and Davidstraße. Its area of responsibility is actually the smallest in Deutschland at only 0,92 km2 containing ca. 14.000 inhabitants.
In 1840 the Hamburg Senate authorized a Polizeiwache (police station) for its area of St. Pauli which actually lay outside the walls of the city itself. In October of the same year a building was occupied for this purpose on the corner of Kastanienallee and Davidstraße. By 1867 a larger building was required and on the present site stood a building formerly used by the Hamburg Militärs which was now available after the dissolution of this body, so the police moved there in 1868.
Further expansion required the construction of the present building (planned by Fritz Schumacher) on the same site, which was officially opened on 10.12.1914.
Since 09.10.1970, the station has been able to officially describe itself as Davidwache, its unofficial name for over 100 years.

FC St Pauli Football Club
Like many European clubs, the football club is actually part of a larger sports club that also has rugby, American football, baseball, bowling, chess, cycling, handball, skittles, softball and table tennis teams. While the footballers have enjoyed only modest success on the field, the club is widely recognized for its unique culture and has a large popular following as one of the country's "Kult" clubs.
The club began traces its existence back to 1899 as a loose, informal group of football enthusiasts within the Hamburg-St. Pauli Turn-Verein 1862. Officially established on May 15, 1910, the club had a fairly undistinguished record initially, playing in various different leagues (there appears to have been no National League as such at the time).
After the war, the club resumed playing in the Oberliga Nord in 1947, the top level available then. Second place in the 1947-48 season led St. Pauli to its first appearance in the National Championship rounds. They advanced as far as the semi-finals where they were knocked out 2:3 by eventual champions 1.FC Nürnberg. The club continued to play well through the early 50's, but were unable to overtake rivals Hamburger SV, finishing in second place in five of the next seven seasons and going out in the early rounds in each of their National Championship appearances from 1949 to 1951. In the latter half of the decade and into the early 60's St. Pauli was overtaken by rivals such as Werder Bremen and VfL Osnabr¨ck and were unable to do better than a number of fourth places.
In 1963, the Bundesliga, West Germany's new top-flight national league, was formed. Hamburger SV, Werder Bremen, and Eintracht Braunschweig joined the new league as the top teams from the Oberliga Nord, while St. Pauli found themselves in the second-tier Regionalliga Nord.
Nearly a decade and a half of frustration followed. As before, they reached the promotion play-offs quite often but failed to make it thru.
The success of the Bundesliga and the growth of professional football in West Germany led to the formation of the 2.Bundesliga in 1974. St. Pauli were able to enter the 2.Bundesliga Nord, and in 1977 finally advanced to the first division, having finished top of their division. The team was immediately relegated after just one season.
The club's return to the 2.Bundesliga Nord was also short-lived. On the verge on bankruptcy in 1979 they were denied a license for the following season and were sent down to the Oberliga Nord. Strong performances that put the team at the top of that division in 1981 and 1983 were not matched by sound financial health. By 1984, the club was sufficiently recovered to get back into the 2.Bundesliga.
It was in the mid-80's that St. Pauli's transition from a traditional club into a "Kult" club began. The club was also able to turn the location of its home field near Hamburg's Reeperbahn to its advantage. An alternative fan scene emerged built around left-leaning politics and the "event" and party atmosphere of the club's matches. Supporters adopted the skull and crossbones as their emblem. St. Pauli became the first team in Germany to officially ban right-wing, nationalist activities in its stadium. In 1981, the team was averaging crowds of only 1,600 spectators: but by the late 90s they were frequently selling out their 20,000 seat venue.
St. Pauli began a roller coaster ride that saw them in and out of the Bundesliga over the course of the next dozen years. They returned to the Bundesliga in 1988 for a three year stay, followed by another two-season run in 1995.
Their most recent appearance in the top flight was a single season in 2001-02. That adventure nearly bankrupted the club which started fundraising activities - the so called Retteraktion. They printed T-shirts with the club's crest surrounded by the word Retter (rescuer) and more than 140,000 were sold within 6 weeks. They also organized a benefit game against Bayern Munich.
In November 2004, a group of Birmingham based St Pauli fans, the 'Boys in Brown' organised a punk benefit gig for FC St. Pauli due to their dire financial position. The punk band Goldblade headlined the event in Digbeth, Birmingham on November 20, 2004
The club has also been active in terms of charity and in 2005 the club, the team and the fans initiated the 'viva con agua de sankt pauli' campaign which collects money for water dispensers for schools in Cuba.
During the 2005-06 season, the team enjoyed unprecedented success in the DFB Cup, with wins over Burghausen, Bochum and, significantly, Bundesliga sides Hertha Berlin and, in the quarter-finals on January 25, 2006, Werder Bremen. Their 3-1 victory in front of a sell-out Millerntor crowd and their subsequent place in the DFB Cup semi-final netted the club approximately € 1 million in TV and sponsorship money, going a long way to saving the club from immediate financial problems. In the wake of its DFB Cup victories, the club has also produced a new line of T-shirts with the slogan "Wir Sind Pokal" (We Are the Cup), after the Bild newspaper's famous 2005 headline "Wir Sind Papst" (We Are the Pope). St. Pauli finally went out of the cup to FC Bayern Munich on April 12 going down 3-0 with goals from Owen Hargreaves and Claudio Pizarro (x2).
FC St. Pauli enjoys a certain renown for the character of its supporters: most of the team's fans regard themselves as anti-racist, anti-fascist and anti-sexist, and this has on occasion brought them into conflict with neo-Nazis and hooligans at away games. The organization has taken up an outspoken stance against racism, fascism, sexism, and homophobia and has embodied this position in its constitution. Team supporters traditionally participate in demonstrations in the Hamburg district of St. Pauli, including those over squatting or low-income housing such as the Hafenstraße and Bambule. The center of fan activity is the Fanladen St. Pauli.
The club prides itself on having have the largest number of female fans in all of German football. In 2002, advertisements for the men's magazine Maxim were removed from the team's stadium in response to fan protests over the sexist depictions of women in the ads.
St. Pauli is also a worldwide symbol for punk and related subcultures. The unofficial Totenkopf logo and the team's brown and white football jerseys have often been worn by international artists such as Asian Dub Foundation. Turbonegro recorded a special version of their song "I Got Erection" with re-worked German lyrics for St Pauli. KMFDM frontman and Hamburg native Sascha Konietzko is a recognizable St. Pauli fan, even at one point placing a huge picture of a fist smashing a swastika on his band's main page with the caption St. Pauli Fans gegen Rechts! (St. Pauli fans against Nazis) underneath it. One of the most notable supporters and sponsors is Andrew Eldritch, lead singer of band The Sisters of Mercy. On his latest tour, Sisters Bite The Silver Bullet in 2006, Eldritch wore the famous Totenkopf shirt.
Home fixtures at the Millerntor average a greater attendance than any other team in the German third division, and often exceed turnouts for second division teams. St. Pauli can also boast more season ticket holders than many Bundesliga teams. One study recently estimated that the team has roughly 11 million fans worldwide, making the club one of the widely recognized German sides. There are more than 100 registered fan clubs, many of them outside Germany. St. Pauli are also known for their close links with other clubs, and enjoy a particularly close friendship with Glasgow Celtic.
St. Pauli opens its home matches with AC/DC's Hells' Bells, and after every home goal, the notorious Song 2 by Blur is played, turning the stadium into a giant mosh pit.

A rivalry developed between St. Pauli and Hansa Rostock in the early 90's because of the number of neo-Nazis among Hansa supporters at that time. As Hansa brought these groups under control, the rivalry faded.

The club's "hereditary enemy," is Hamburger SV, Hamburg's largest football club. Past derbies have taken place under close police watch to keep the supporters of the two sides separated, as HSV has a small, but visible group of neo-fascist fans. During derbys, HSV supporters have held up banners reading "HASS" (hate), or chanted "Zecke verrecke!" ("Ticks, croak it!"), while St.Pauli fans often answer, in allusion to the Italian leftist Ultra scene, "Amburgo, Amburgo: Va fan culo!". As HSV's stadium lies on the outskirts of Hamburg, next to a waste incinerating plant, many St. Pauli fans see their club as the only "true" football club in the city.

St. Pauli is very proud of having what is probably the last non-electronic scoreboard in the upper leagues. After every goal, a worker manually updates the scoreboard by taking down and then replacing a number placard.
The club's home is the Millerntor-Stadion near the Reeperbahn. Work on the stadium began in 1961, but its completion was delayed as there was initially no drainage system in place, making the pitch unplayable when it rained. It originally held 32,000 supporters, but this has been reduced for safety reasons.
Team trivia
St. Pauli's supporters sometimes refer to the club as Weltpokalsiegerbesieger (World Club Champ beaters) after their 2:1 home win against Bayern Munich, the then-World Club Championship winners, in 2002. Another popular nickname for the side is "Freibeuter der Liga" (Freebooters of the League) as well as das Freudenhaus der Liga, a double entendre for a brothel of the league.

The sports club also fields a women's rugby team, which has won five national titles, the most recent in 2005.

The club president is Corny Littmann, who is head of the Schmidt Theater on the Reeperbahn.
Hans Albers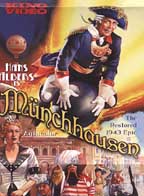 The actor Hans Albers is closely associated with Hamburg, and especially St. Pauli, where there is a "Hans Albers Platz." within the 'true' red-light area. Although seemingly better known as a singer within Deutschland, he is perhaps best known elsewhere for playing 'Baron Munchhausen' on film, and maybe an earlier role as Marlene Dietrich's lover in 'The Blue Angel'.
Many of Albers' songs were humorous tales of drunken, womanzing sailors on shore-leave, with double entendres such as "It hurts the first time, but with time, you get used to it". Albers' songs were often peppered with Plattdeutsch dialect typical of Northern Germany. His most famous song is "Auf der Reeperbahn nachts um halb eins," ("On the Reeperbahn at half 12 at night") which has become the unofficial anthem of the colorful neighbourhood of St. Pauli.
He was the son of a butcher in the St. Georg district. He ended an apprenticeship as a salesman in order to pursue his interest in theatre, and began taking acting classes without his parents' knowledge. He was drafted in 1915 and served on the Western Front. After World War I, he moved to Berlin, where he found work as a comedy actor in various theatres. His breakthrough was playing a waiter in the play Die Verbrecher (The Criminals). It was also in Berlin that Albers began a long-term relationship with half-Jewish actress Hansi Burg. Albers never married Burg, perhaps in part because such a marriage would have been outlawed after the Nazi seizure of power in 1933.
After roles in over one hundred silent films, Albers appeared in the first German film with sound, Die Nacht gehört uns (The Night Belongs to Us), in 1929. Soon after, Albers played alongside Marlene Dietrich in Der blaue Engel (The Blue Angel).
When the Nazis came to power, Albers and his girlfriend moved to Starnberger See in Bavaria. He stopped working in theater, in order to distance himself from the new regime. The Nazis forced Albers to end his relationship with Hansi Burg, and she fled to Switzerland and then to Britain in 1939.
However, in 1943 Albers was paid a huge sum of money to star in the hit-film Münchhausen . Also in 1943, Albers starred in Große Freiheit Nr. 7 with actress Ilse Werner. The film had to be shot in Prague because of bomb damage to Hamburg. The film tells the story of a singer (played by Hans Albers) who works in a Reeperbahn club and falls in love with a girl played by Ilse Werner.
Hans Albers and Heinz Rühmann played in the 1954 film 'Auf der Reeperbahn nachts um halb eins'. The title song was sung by Albers as already inferred.
Nevertheless, although after World War II Albers had a few successful films and songs, he never again enjoyed the public acclamation he had before and during the war. This may have been due in part to Albers' increasing alcoholism during the 1950s. Albers died in 1960 in a sanatorium near the Starnberger See of internal bleeding.
Film/Television
1964 - Jürgen Roland's Film 'Polizeirevier Davidswache'

1971 - Wolfgang Staudte's 'Fluchtweg St. Pauli - Großalarm für die Davidswache'

To date - The long-running TV series 'Großstadtrevier' shows the area in its opening sequences and implies that it is set in an area close by.
St Pauli Brewery
For a long-time this was a feature of St Pauli, one of the first things to be seen when landing by ferry, for example. In 1998, the brewery was sold to Holsten and production of its 'Astra' beer transferred to the Holsten Brewery, and in 2004 the St. Pauli Brewery was pulled down.
Links
Cafe Lehmitz, a famous cafe formerly on the Reeperbahn
MAGAZINE ARTICLE ON THE AREA
Lena M. enjoys stripping for a living. Self-lovingly, she put her heavenly body in pose, stretched her bottom out, climbed on to the velvet-bedecked revolving stage and let the coverings drop. She is one of the 10-15 girls who strip professionally in "Susi's Show bar", an upmarket erotic club on the corner of the Reeperbahn and Große Freiheit". High[point of the program is the bubble bath. Guest can also join in.... sex is the "oldest trade in history", says Heinz Kitsch, who runs the club with his wife Susi. "And there will alsways be sex in St. Pauli".
But it now has competition. With the reperbahn, St Pauli has the most gfamour 'erotic mile' in the world, nevertheless an astounded change has taken place there.: from a pure red-light district to an amusement are for everyone.
Arts and Culture attract the crowds
As though half of Germany has discovered anew the often-considered-dead 'kiez', over 250,000 people swarm over the 0.7 square kilometers on a good weekend. Attracted by crazy myths, they keep coming. Through a district that stretches from the bars on Hans-Albers-Platz through to the ladies of the night on the Davidstraße. From the legendary Esso filling station on the Spielbudenplatz to the sex shops and tatoo shops in the sidestreets of the Reeperbahn. Artists and free agents rush here and there. An unmistakeable sign: rents are climbing.
The St. Pauli Theater sits right next to the Davidwache police station. "The kiez offers a special inspiration but also a special 'hardness' "says Uli Waller, who has been responsible for the artistic direction of the the well-established theatre for a few years. "There are other features: you have to be abit louder, more colorful and more agressive in order to be heard. Otherwise you will go under." The 'mile' is loud enough by itself. If you want to visit the theater in the evenings, then you will have to traverse it. And when the police cars from the Davidwache are called out on duty, you can hear the sirens even in the stalls - but that brings a certain charm also.
Waller hopes, just like other creative people, that the kiez will yet again become associated with the arts, with 'intelligent entertainment'. In the St. Pauli Thetaer you can find Ben Becker, undisturbed since his alcoholic scandal, appearing in 'Endstation Sehnsucht - every performance fully booked out. "It's going well with him again", says waller. In Novemnber, the piece will be put on again. And before Christmas Udo Jurgen's musical "Ich was noch niemals in New York" will receive its premiere.
People know what they like
Two houses farther down, Corny Littman in the Schmidt Theater is putting on the long-running 'kiez-piece' "Heiße Ecke". The public enjoy themselves greatly and wine and snacks are also served up. To the theatre belongs "Angie's Nighclub". When recently a few guests expressed a desire for striptease, all that was needed was a call to Susi's Show Bar. They helped out with four strippers.
Neighborhood is a concept held dear here. Irrespective of whether you are head of a theatre or bar owner - all are drawn together. The trdaitional milieu is on the retreat. Naturally people will continue to be fleeced, there will always be brothels like the Laufhaus and notorious pimps. But violent excesses with guns, or gang wars, such as happened in the times of the Nutella Gangs, are rare nowadays. "Problems in St. Pauli are sorted out nowadays in a business-like manner", says police spokeman Ralf Meyer. In spite of theis the number of incidents of bodily harm climbed in 2006 by 16% to more than 600 cases. Half were the result of drinking by young people and the likewise uninhibited stag parties along the street. With some of them the aggression 'threshold' has sunk very low.
The older inhabitants of the kiez like Jens Möller of the Cafe Möller, these are a side issue. Sometimes foreign elements attempt to wind the red-light district up, buyt you just can't get rid of it. There is an official endorsement of this. Markus Schreiber, the head of the district of Hamburg-Mitte : " We need a red light district, bars, illicit activities and 'the dregs' here. The kiez cannot be allowed to become too clean. And from the tourist standpoint "visitors should be well looked after and there are few more attractions with this in mind: in 2008 the Beatlesplatz will be opened on the corner of the Reeperbahn, having the appearance of a giant record. Paul McCartney has promised to make an appearance. If he does actually come, Möller has said that after 53 years he will change the name of his cafe: to "Cafe am Beatlesplatz". The 'mile' is changing.
DEUTSCH VERSION OF ABOVE
Lena M. strippt für ihr Leben gern. Selbstverliebt wirft sie ihren trainierten Astralleib in Pose, reckt den Po, klettert auf den mit rotem Samt bezogenen Drehteller und lässt die Hüllen fallen. Sie ist eines von zehn bis 15 Madchen, die sich in ,,Susis Show Bar", einem edlen Erotik-Club an der Ecke Große Freiheit/ Reeperbahn, professionell ausziehen. Höhepunkt im Nacktprogramm ist das Schaumbad. Da dürfen dann auch Gäste mitspielen ... ,,Sex ist der älteste Trieb der Welt", sagt Heinz Kitsch, der den Club gemeinsam mit seiner Frau Susi betreibt. ,,Und Sex wird es auf St. Pauli immer geben."
Aber er hat Konkurrenz bekommen. St. Pauli beherbergt mit der Reeperbahn die berühmteste Erotik-Meile der Welt, dennoch hat sich dort ein erstaunlicher Wandel vollzogen: vom reinen Rotlicht-Milieu zum Vergnügungsviertel für jedermann.
Kunst und Kultur locken
Als hätte halb Deutschland den oft totgesagten Kiez für sich neu entdeckt, tummeln sich an guten Wochenenden auf 0,7 Quadratkilometern über 250 000 Menschen. Angezogen vom verruchten Mythos, lassen sie sich treiben. Durch ein Revier, das von den Kneipen am Hans-Albers-Platz bis zum Strich an der Davidstraße reicht. Von der legendaren Esso-Tankstelle am Spielbudenplatz bis zu den Erotikshops und Tattoo-Laden in den Seitenstraßen der Reeperbahn. Künstler und Freischaffende drängen hinter her. Untrügliches Zeichen: Die Mieten steigen.
Das St. Pauli Theater residiert direkt neben der Davidwache. ,,Der Kiez bietet eine besondere Inspirati­on, aber auch eine besondere Härte", sagt Uli Waller, der die alteingesessene Bühne seit ein paar Jahren künstlerisch leitet. ,,Es gelten andere Bedingungen: Man muss ein bisschen lauter, bunter und aggressiver sein, um gehört zu werden. Sonst geht man unter. "Die Meile an sich sei schon sehr laut. Wer sich dort abends bewegt, muss sich den Weg bahnen, um ins Theater zu kommen. Und wenn die Polizeiautos der Davidwache zum Einsatz ausrücken, hört man den Alarm bis in den Zuschauerraum - auch das birgt Charme.
Waller hofft wie andere Kreative, dass man den Kiez wieder mit Kunst verbindet, mit ,,intelligenter Unterhaltung". Im St. Pauli Theater stand Ben Becker, seit seinem Alkoholskandal medial ungelitten, in ,,Endstation Sehnsucht" auf der Bühne - jede Vorstellung ausgebucht. ,,Es geht ihm wieder gut", sagt Waller. Im November wird das Stück noch mal aufgelegt. Und vor Weihnachten hat im Operettenhaus Udo Jürgens' Musical ,,Ich war noch niemals in New York" Premiere.
Man kennt sich, man mag sich
Zwei Häuser nebenan lässt Corny Littmann im Schmidt Theater in einer Endlosschleife das selbst erdachte Kiez-Stück ,,Heiße Ecke" aufführen. Die Leute amüsieren sich wie Bolle, zumal an Tischen Wein und Häppchen serviert werden. Zum Theater gehört ,,Angie's Nightclub". Als neulich ein paar Gäste Appetit auf einen Striptease äußerten, genügte ein Anruf in ,,Susis Show Bar". Man half mit vier Stripperinnen aus.
: Nachbarschaft wird großgeschrieben. Egal, ob Theaterchef oder Barbesitzer - man kennt sich, mag sich, ist lose vernetzt. Das traditionelle Milieu aber ist auf dem Rückzug. Natürlich wird geneppt und gekobert, gibt es Puffs wie das ,,Laufhaus" und furchteinflößende Zuhälter. Doch Gewaltexzesse mit Waffen oder Ludenkriege wie zu Zeiten der Nutella-Bande sind rar. ,,Probleme auf St. Pauli werden heute geschäftsmäßig gelöst", sagt Hamburgs Polizeisprecher Ralf Meyer. Trotzdem stieg die Zahl gefährlicher Körperverletzungen 2006 um 16 Prozent auf mehr als 600 Fälle. Die Hälfte eine Folge von Saufgelagen junger Leute und der ebenso hemmungslosen Junggesellenabende auf der Straße. Bei manchen sinkt die Aggressionsschwelle in der Masse aus geringem Anlass.
Für alte Kiezianer wie Jens Möller vom ,,Cafe Möller" eine Randerscheinung. Manchmal würde durch fremde Einflüsse versucht, das Biotop Rotlicht auszutrocknen, zerstören könne man es nicht. Darauf setzt man selbst an offizieller Stelle. Markus Schreiber, Bezirkschef von Hamburg-Mitte: "Wir brauchen hier Rotlicht, Kneipen, Sünde und Dreck. Der Kiez darf nicht zu sauber sein - auch aus touristischen Gründen, Besucher sollen verwöhnt werden, dazu dient eine weitere Attraktion: Weil die Karriere der Beatles einst auf der Großen Freiheit begann, entsteht 2008 an der Ecke zur Reeperbahn der ,,Beatlesplatz" - einer riesigen Schallplatte gleich. Paul McCartney hat sein Erscheinen zugesagt. Wenn er tatsächlich kommt, sagt Möller, wird er sein Cafe nach 53 Jahren umbenennen: in ,,Cafe am Beatlesplatz". Die Meile andert sich.